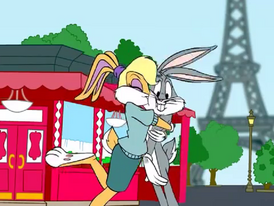 Dating Do's and Don'ts is a Webtoon.
Plot
Bugs Bunny has a date with Lola Bunny, but her overprotective dad tries to find a way to get rid of him. Meanwhile Elmer Fudd tries to keep Bugs Bunny out of his sight using his backyard security system
Characters
Cast
Trivia
This webtoon is based on a 1949 instructional film.
This is the very first webtoon that Lola Bunny has appeared in.
This is the second time Lola was seen animated after Space Jam. Unlike her appearances in Space Jam and Tweety's High Flying Adventure, Lola's cheeks are white instead of cream-colored.
This is possibly Lola's very last animated appearance in Space Jam form before being redesigned for The Looney Tunes Show.
Lola's father makes his very first appearance.
Pepe Le Pew makes a non-speaking cameo near the end of this webtoon as a waiter in France.
Lola has no speaking lines.
Gallery
Video