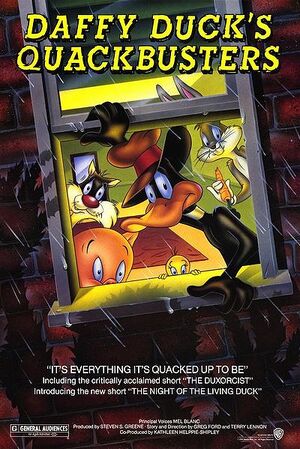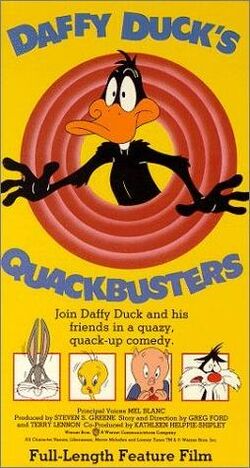 Daffy Duck's Quackbusters is a 1988 Looney Tunes film with a compilation of classic Warner Bros. Cartoons shorts and animated bridging sequences, starring Daffy Duck, Bugs Bunny, Tweety Bird, Sylvester, and Porky Pig. It is the final theatrical Looney Tunes production in which Mel Blanc provided the voices of the characters. The film was released to theaters by Warner Bros. Pictures on September 24, 1988.
Film segments in order
Censorship
When Cartoon Network aired this film, the part where Daffy offers "Billy Beer" with each purchase of a car was cut.[citation needed|date=]
Also cut were some of the noose gags shown in "Claws for Alarm".

See also
Video
Notes
Daffy's scream as he got hit by the wrecking ball is Wile E. Coyote's scream taken from "To Beep or Not to Beep". The visual effect, referred to as eating the camera, is also part of this scene.
MPAA Number: 29236
External links
Ad blocker interference detected!
Wikia is a free-to-use site that makes money from advertising. We have a modified experience for viewers using ad blockers

Wikia is not accessible if you've made further modifications. Remove the custom ad blocker rule(s) and the page will load as expected.