Cracked Quack is a 1952 cartoon starring Daffy Duck and Porky Pig.
Plot
A cold and tired Daffy attempts to get into Porky's house by posing as a stuffed mounted duck but Porky's dog, Rover, has other ideas.
Notes
This is the last Porky Pig cartoon to be directed by Friz Freleng.
This cartoon was used in Bugs Bunny's 3rd Movie: 1001 Rabbit Tales, but with some changes to it:

Daffy's line, "We'll just put it away in the storage for the winter", is replaced with, "Thermopolis will just have to wait."
The ending was also changed so that instead of having Daffy win, Porky would shoot all of the ducks out of his house.

Most 1950s Merrie Melodies Porky shorts would be directed by Chuck Jones while most 1950-60s Looney Tunes Porky cartoons would directed by Robert McKimson.
Gallery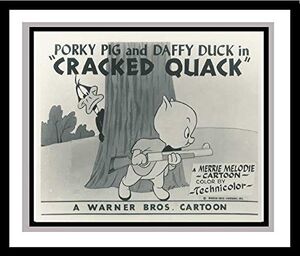 Ad blocker interference detected!
Wikia is a free-to-use site that makes money from advertising. We have a modified experience for viewers using ad blockers

Wikia is not accessible if you've made further modifications. Remove the custom ad blocker rule(s) and the page will load as expected.