Ad blocker interference detected!
Wikia is a free-to-use site that makes money from advertising. We have a modified experience for viewers using ad blockers

Wikia is not accessible if you've made further modifications. Remove the custom ad blocker rule(s) and the page will load as expected.
Chuck Jones
General information
Born:
Charles Martin Jones
September 21, 1912
Spokane, Washington
Died:
February 22, 2002 (aged 89)
Corona Del Mar, California
Cause of death:
Heart failure
Alternate names:
Charles M. Jones, Charles Jones
Occupation(s):
Animator, director, producer, screenwriter, cartoon artist
Years active:
1933 - 2001
Spouse:
Marian J. Dern
Children:
Linda-Jones Clough
[Source]
Charles Martin "Chuck" Jones (September 21, 1912 – February 22, 2002) was an American animator, director, cartoon artist, screenwriter, and producer. Until his death in 2002, he created several Looney Tunes characters, including, Sniffles, Pepe Le Pew, Penelope Pussycat, Marvin the Martian, The Road-Runner and Wile E. Coyote, and Hubie and Bertie, amongst many others.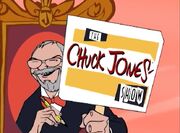 On July 19th, 2014, the Museum of the Moving Image in New York City opened the exhibit, What's Up, Doc? The Animation Art of Chuck Jones, which features some of Jones's artwork over his career. More information can be found here: http://www.movingimage.us/exhibitions/2014/07/19/detail/whats-up-doc-the-animation-art-of-chuck-jones/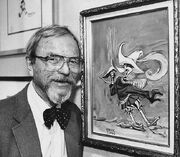 Jones has his own website he made in 2000. Click here for it: http://www.chuckjones.com/
Looney Tunes Cartoons directed
See Category:Cartoons directed by Chuck Jones.
Characters created
Trivia
A credit for Chuck Jones's title animation appeared in Gremlins 2: the New Batch.
In 2012, the Circus Circus hotel in Las Vegas housed the Chuck Jones Experience exhibit.
Gallery