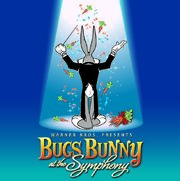 Bugs Bunny at the Symphony is a concert musical featuring Looney Tunes characters such as Bugs Bunny, Daffy Duck, Elmer Fudd, Wile E. Coyote and Road Runner. The production was conceived by George Daugherty, incorporating scores by Carl Stalling and Milt Franklyn. It is an upgraded version of Bugs Bunny on Broadway.
History
After the rousing success of Bugs Bunny at the Symphony, a revised version, Bugs Bunny at the Symphony, was created by Daugherty and David Ka Lik Wong. It began a United States national tour in July 2010, at the Hollywood Bowl in Los Angeles, played by the Los Angeles Philharmonic, followed by an East Coast premiere with the National Symphony Orchestra at Wolf Trap. An Australian touring production had opened in May 2010 at the Sydney Opera House prior to touring to additional Australian cities, including Adelaide and Perth.[citation needed|date=]
A new international tour premiered in October 2010 with the RTE Concert Orchestra in Dublin, Ireland at the Grand Canal Theatre, followed by Asian premieres in 2011 in Taiwan, and with the Malaysian Philharmonic Orchestra at the Dewan Filharmonik Petronas Concert Hall in Kuala Lumpur, Malaysia.[citation needed|date=]
Musical Numbers
Music and lyrics by Stalling and Franklyn unless otherwise noted.

Act I
"Dance of The Comedians" from "The Bartered Bride" (music by Bedřich Smetana)
"Warner Bros. Fanfare and Intro from "Merrie Melodies"
"Baton Bunny" (Music by Franz von Suppé)
"What's Up, Doc?"
"Rhapsody Rabbit"
"I Love to Singa" (music and lyrics by Harold Arlen and E.Y. Harburg)
"Zoom and Bored"
"Home Tweet Home"
"The Rabbit of Seville" (music by Gioacchino Rossini)
Act II
"Orchestral Overture" from "The Beautiful Galatea" (music by Franz von Suppé)
"Tom and Jerry in the Hollywood Bowl" (music by Johann Strauss)
"Scooby-Doo's Hall of the Mountain King" (from Edvard Grieg's Peer Gynt)
"Bedrock Ballet" Featuring The Flintstones ("Can-Can" from Jacques Offenbach's Orpheus in the Underworld)
"A Corny Concerto"
"Long-Haired Hare"
"What's Opera, Doc?"
"Merrie Melodies Closing Theme" - "That's all Folks!"
"History of Looney Tunes" (music by Gioacchino Rossini)
Sequel
In 2014, George Daughtery once again upgraded "Bugs Bunny at the Symphony" and changed the program a bit. This updated version was called Bugs Bunny at the Symphony II.
External links