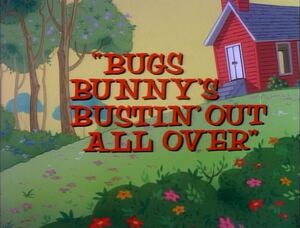 Bugs Bunny's Bustin' Out All Over is a Looney Tunes television special which aired on CBS in May 21, 1980. It features three new cartoons at the time, which featured Bugs Bunny and other Looney Tunes characters. The theme of this special is the springtime. It is included as a special feature on the Looney Tunes Golden Collection: Volume 5 DVD Box Set.
The cartoon shorts include:
Video
Ad blocker interference detected!
Wikia is a free-to-use site that makes money from advertising. We have a modified experience for viewers using ad blockers

Wikia is not accessible if you've made further modifications. Remove the custom ad blocker rule(s) and the page will load as expected.