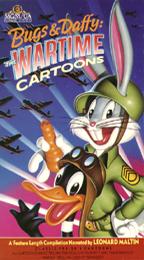 Bugs & Daffy: The Wartime Cartoons is a 1989 VHS/LaserDisc containing 11 pre-1948 Looney Tunes cartoons, all of which are centered on World War II to a certain degree. Film critic Leonard Maltin from Entertainment Tonight gives notes about each cartoon before the cartoon plays.
The VHS/LaserDisc was released by Turner Entertainment and MGM/UA Home Video in the USA. All of these cartoons were later restored (some had their audio remastered) for the Looney Tunes Golden Collection video sets by Warner Home Video.
Features
(*): Public Domain in the United States
(**): The original negative had Porky's drum ending audio intact. However, the restored version did not.
External links
Ad blocker interference detected!
Wikia is a free-to-use site that makes money from advertising. We have a modified experience for viewers using ad blockers

Wikia is not accessible if you've made further modifications. Remove the custom ad blocker rule(s) and the page will load as expected.