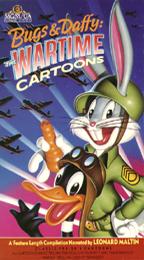 Bugs & Daffy: The Wartime Cartoons is a 1989 VHS/LaserDisc containing 11 pre-1948 Looney Tunes cartoons, all of which are centered on World War II to a certain degree. Film critic Leonard Maltin from Entertainment Tonight gives notes about each cartoon before the cartoon plays.
The VHS/LaserDisc was released by Turner Entertainment and MGM/UA Home Video in the USA. Much like the Bugs Bunny Superstar VHS/laserdisc set released around the same time by Turner Entertainment and MGM/UA Home Video, most of the cartoons use new prints which are very different from the ones used in the rest of the Cartoon Moviestars VHS releases and in The Golden Age of Looney Tunes laserdisc releases; each and every cartoon on this VHS/LaserDisc set has black borders in both the opening and closing titles.
With the exception of "Fifth-Column Mouse" which is presented as a 1995 dubbed version on The Golden Age of Looney Tunes Vol. 5 laserdisc, all these cartoons appear on The Golden Age of Looney Tunes Vol. 1-4 with their original opening and ending titles intact, either as early-1980s a.a.p. prints (Draftee Daffy, Plane Daffy, Daffy - The Commando, Russian Rhapsody, Herr Meets Hare), 1987 MGM prints (Super-Rabbit, Swooner Crooner, Falling Hare, Little Red Riding Rabbit) or reusing this VHS transfer (The Weakly Reporter).
All of these cartoons were later restored for the Looney Tunes Golden Collection DVD sets by Warner Home Video.
Features
(*): Public Domain in the United States
(**): The original negative had Porky's drum ending audio intact. However, the restored version did not, due to the Turner "dubbed version" being the source of the restored version's soundtrack.
External links