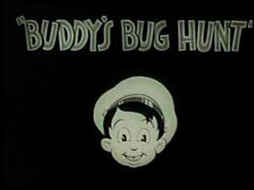 Buddy's Bug Hunt is a 1935 Looney Tunes cartoon directed by Jack King. The short subject stars Buddy.
Plot
Buddy is a bug collector, and he discovers a spider in his club house. He attempts to subdue the spider, but the spider sets all of his pets free. They shrink Buddy down to their size and take him to a trial where he's tried for abusing bugs. He is found guilty and is going to be fried. He suddenly awakens and decides to free all of his bugs, and destroys his club house.
Gallery
Ad blocker interference detected!
Wikia is a free-to-use site that makes money from advertising. We have a modified experience for viewers using ad blockers

Wikia is not accessible if you've made further modifications. Remove the custom ad blocker rule(s) and the page will load as expected.