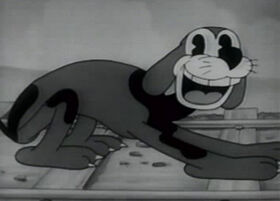 Bruno is a Warner Bros. character.  He first appeared in the 1931 Looney Tunes short Bosko's Fox Hunt, though Roxy's dog in One More Time is nearly identical.
Description
Bruno is Bosko's dog of indeterminate breed.  He is dark gray (brown in color versions) with a few black patches.  His tail is hairless and, despite being a dog, he lacks canine teeth.
Appearances
Ad blocker interference detected!
Wikia is a free-to-use site that makes money from advertising. We have a modified experience for viewers using ad blockers

Wikia is not accessible if you've made further modifications. Remove the custom ad blocker rule(s) and the page will load as expected.