| | |
| --- | --- |
| This page is under construction. Please help us work on it. | |
"I wanna Easter egg! I wanna Easter egg!"
―The Bratty Kid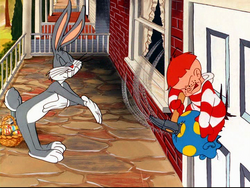 The Bratty Kid is a one-shot character and an antagonist from the Looney Tunes short, Easter Yeggs.
The first house the "joyous bunny" visits bears a name by the door: Dead End Kid, and the mean little red-haired kid who lives inside throws the egg at Bugs' face, bites him in the leg and beats Bugs up before body slamming him on the floor. Bugs loses his cool and grabs the kid's arm. Unfortunately, Dead End Kid screams and three huge thugs rush in on Bugs while aiming guns at him. Bugs barely escapes the hail of bullets. When Bugs rushes back to the Easter Bunny telling him he quits, the Easter Bunny gets him to "try once more".
Unfortunately, the next house is that of Elmer Fudd, the veteran wabbit-hater. Fudd sets up an elaborate welcome and, disguised as a baby, hides his gun in a bassinet and climbs in. Just then Bugs arrives, but this time he's prepared for toddler resistance: he cracks the egg in Elmer's hands. Thus commences the classic chase until Bugs manages to sic Dead End Kid on Elmer (who beats Elmer on the head repeatedly with a hammer after Bugs paints Elmer's head to look like an Easter egg). Finally, Bugs plants a bomb painted like an Easter egg and leaves it for the Easter Bunny. When he picks it up to finish his job, Bugs lights the fuse, proclaiming to the audience "it's the suspense that gets me," and the bomb explodes on the Easter Bunny, leaving the hapless hen-fruit handler hanging high up in a tree
Quotes
"He bwoke my wittle arm! He bwoke my wittle arm! The bad rabbit bwoke my wittle arm!
Gallery
Ad blocker interference detected!
Wikia is a free-to-use site that makes money from advertising. We have a modified experience for viewers using ad blockers

Wikia is not accessible if you've made further modifications. Remove the custom ad blocker rule(s) and the page will load as expected.