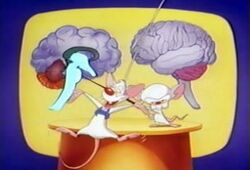 Brainstem is a song from Pinky and the Brain.
Plot Summary
Pinky and the Brain sing about the parts of the human brain to the tune of "Camptown Races."
Lyrics
[Drum Roll]
And now the parts of the Brain performed by...The Brain
Brain: Neo-cortex frontal lobe
Pinky: brainstem, brainstem

Brain: Hippo-campus, neural node
right hemisphere
pons and cortex visual
Pinky: brainstem, brainstem

Brain: Sylviun fissure, pineal, left hemisphere
cerebellum left
cerebellum right
synapse-hypothalamus
triaden-dendrite

[weird sounds]

axon-fibrous, matter gray
Pinky: brainstem, brainstem

Brain: central-tegmantal path-way
temporal lobe

white-gormatter
four brain skull
Pinky: brainstem, brainstem

central fissure, cord- spino
bor-riato

piamater
men-ingeal vein
menulla-oblongotta and lobe-limbic
micro-electrodes

parts
the Brain

that ought to keep the little squirts happy
yeah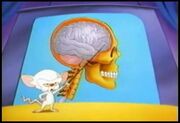 Ad blocker interference detected!
Wikia is a free-to-use site that makes money from advertising. We have a modified experience for viewers using ad blockers

Wikia is not accessible if you've made further modifications. Remove the custom ad blocker rule(s) and the page will load as expected.