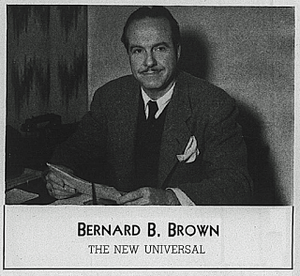 Bernard B. Brown (July 24, 1898 – February 20, 1981) was an American sound engineer and composer. He won an Academy Award in the category Sound Recording and was nominated for seven more in the same category. He was also nominated three times in the category Best Visual Effects. He worked on more than 520 films between 1930 and 1958.
Selected filmography
Brown won an Academy Award and was nominated for seven more in the category Best Sound:
Won
Nominated (Best Sound)
Nominated (Best Visual Effects)
Looney Works
He wrote the scores for many early animated cartoons produced by Leon Schlesinger for distribution by Warner Bros. Pictures.
References
External links
Ad blocker interference detected!
Wikia is a free-to-use site that makes money from advertising. We have a modified experience for viewers using ad blockers

Wikia is not accessible if you've made further modifications. Remove the custom ad blocker rule(s) and the page will load as expected.