| | |
| --- | --- |
| This article/section is a stub. You can help Looney Tunes Wiki by expanding it. | |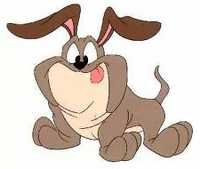 Barky Marky (voiced by Frank Welker) is a young, brown and tan male dog. He is based on the Looney Tunes character, Marc Anthony.
Personality
Barky Marky is portrayed as a typical canine who loves to play fetch as well as various other sports and activities. Even though Barky starred in his very own short entitled "Go Fetch" with Elmyra Duff, as well as making many cameo appearances on other episodes, appearing in the special Tiny Toon Adventures: Spring Break Special and the movie Tiny Toon Adventures: How I Spent My Vacation, Barky Marky was still referenced and mocked for his lack of appearances on the Saturday Night Live spoof Weekday Afternoon Live. When Buster Bunny is reading the news out loud from the viewers complaining about him not being in enough episodes, Babs Bunny, posing as a Tiny Toons casting director, asks "Who's Barky Marky?"
Gallery
Ad blocker interference detected!
Wikia is a free-to-use site that makes money from advertising. We have a modified experience for viewers using ad blockers

Wikia is not accessible if you've made further modifications. Remove the custom ad blocker rule(s) and the page will load as expected.