Baby Looney Tunes
General information
Genre:
Family
Created by:
Starring:
No. of seasons:
2
No. of episodes:
53
Running time:
22 minutes, 11 minutes per episode, on a 30 min reel
Original run:
September 7, 2002 - April 20, 2005
Networks:
Kids' WB! (2002)
Cartoon Network (2002 - 2005)
[Source]
Baby Looney Tunes is an American animated television series that ran from 2002 to 2005. It shows the Looney Tunes characters reimagined as toddlers.
Concept
The show features toddler versions of the Looney Tunes characters. They live with their caretaker, Granny, and her grandson Floyd Minton.
Characters
The main characters are: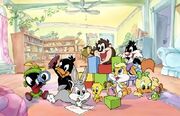 Although not regular characters, the show has also featured toddler versions of Porky Pig, Elmer Fudd, Yosemite Sam, Wile E. Coyote, Road Runner, Foghorn Leghorn, Pepe Le Pew, and Marvin the Martian, usually during musical sequences. Speedy Gonzales, Penelope Pussycat, and Charlie Dog are the most important characters who never appeared on the show.
Episodes
A total of 52 episodes were produced over two seasons. See the Baby Looney Tunes Episode Guide and List.
Each episode opened with the "Baby Looney Tunes Theme Song".
Reruns
Reruns are shown on Boomerang periodically.
Trivia
This is the latest appearance of Melissa Duck. Afterwards, she is replaced by Daffy's next and most recurring girlfriend, Tina Russo.
Baby Looney Tunes Gallery
Main
Recurring
Minor
Ad blocker interference detected!
Wikia is a free-to-use site that makes money from advertising. We have a modified experience for viewers using ad blockers

Wikia is not accessible if you've made further modifications. Remove the custom ad blocker rule(s) and the page will load as expected.