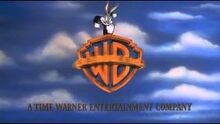 Authentic and Original Warner Bros. Looney Tunes Cartoons is the sixth series of Looney Tunes videos from Warner Home Video, and was released in 1993. Each video in this series began with a short animated opening of Bugs Bunny spinning the "Warner Bros. Family Entertainment" logo around the Warner Bros. shield. For the first time since the Golden Jubilee series, Elmer Fudd gets his own VHS tape on the Warner Home Video label. The series was discontinued in 1999.[1]
| Cover | Title | Shorts |
| --- | --- | --- |
| | Bugs Bunny's Hare-Brained Hits | |
| | Elmer Fudd's School of Hard Knocks | |
| | Road Runner and Wile E. Coyote's Crash Course | |
| | Sylvester and Tweety's Tale Feathers | |
| | Yosemite Sam's Yeller Fever | |
References
Ad blocker interference detected!
Wikia is a free-to-use site that makes money from advertising. We have a modified experience for viewers using ad blockers

Wikia is not accessible if you've made further modifications. Remove the custom ad blocker rule(s) and the page will load as expected.