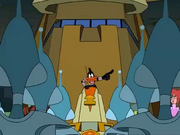 Attack of the Drones is a 2004 Looney Tunes short.
Plot
Space monsters destroy a space fleet, and then head towards earth. Duck Dodgers holds a meeting to decide what to do. Duck goes to a photocopy machine to produce 100 robot copies - the drones - of himself. Duck sends the drones against the monsters, and the drones defeat them.
The drones then return to earth and cause havoc and destruction. Duck is ordered by a yoda-like Elmer Fudd to defeat the drones. After a fight where Duck realizes that the drones behave just like him, he uses their greed and vanity to lure them to a shed where they are tricked with money and awards into falling into a grinder. When he thinks he has destroyed all 100 copies, he sees that the drones have been copying themselves, and the planet is overrun by drones.
Notes
Part of a series of new shorts, but because of the failure of Looney Tunes: Back in Action they were not released theatrically.
MPAA Number: 39782
The shorts sometimes air on Teletoon in Canada and can occasionally be seen on YouTube.com.
Scenes parody The Phantom Menace and The Fifth Element.
Cameos: Dr. Zoidberg from Futurama, The Great Gazoo from The Flintstones, Terl from Battlefield Earth, Instant Martian from "Hare-Way to the Stars"