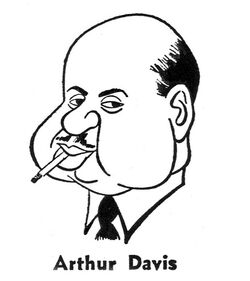 Arthur "Art" Davis (b. June 14, 1905-d. May 9, 2000) was an American animator and director for the Termite Terrace studio. He directed a number of Warner Brothers cartoons from 1946 to 1949, returning to directing for a 1962 cartoon, Quackodile Tears. He also directed the Television Special, The Bugs Bunny Mother's Day Special, and created new shorts The Yolks On You and Daffy Flies North for the Television Special Daffy Duck's Easter Egg-citement. As an animator, he animated under Norm McCabe from 1942 - 1943, under Frank Tashlin from 1943-1946, and under Robert McKimson in 1946. He was a director from 1946 - 1949. When his unit disbanded, he animated under Isadore Freleng from 1949-1962. He animated a large number of Looney Tunes specials and movies. He also wrote the 1955 cartoon, Sandy Claws.
Looney Works
Director
Category:Cartoons directed by Arthur Davis.
Animator
Ad blocker interference detected!
Wikia is a free-to-use site that makes money from advertising. We have a modified experience for viewers using ad blockers

Wikia is not accessible if you've made further modifications. Remove the custom ad blocker rule(s) and the page will load as expected.