"They're A-B-C-Delicious."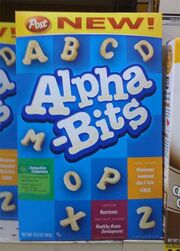 Alpha-Bits, also known as Frosted Alpha-Bits, is a breakfast cereal made by Post Foods, which contains frosted alphabet-shaped corn cereal bits. Post Cereals also started producing Marshmallow Alpha-Bits in 1990.
Alpha-Bits cereal was invented by a father of seven named Thomas M. Quigley who worked for Post Cereals. The cereal was introduced in 1958, and was taken off the market in 2006. However, Alpha-Bits reappeared for sale in January 2008 with a new formulation, touting "0% Sugar!" as a "Limited Edition" cereal. The old recipe was reintroduced later in 2008.
Beginning in 1964, the mascot for Alpha-Bits was a postman, possibly a pun on "Post Man" named Loveable Truly, who was originally voiced by insult comic Jack E. Leonard in a Southern accent. Loveable Truly was also a character in the 1960s cartoon show Linus the Lionhearted on CBS, along with other Post Cereals mascots at the time (including Sugar Bear of Golden Crisp, then called Sugar Crisp). Since then, mascots have included the Alpha-Bits Wizard, who appeared near children in kitchens. In Canada, the last Alpha-Bits mascot was Alpha, a computer who "makes bits". He continues to be used as of 2010. The Canadian Alpha at first resembled IBM PCs, but recent versions have begun to look like Macintoshes. In the 1980s, there was yet another mascot named Alfie the Alpha-Bits Cereal Wonder Dog. Michael Jackson and The Jackson 5 starred in a series of Alpha-Bits musical TV commercials in 1973. Post Alpha-Bits cereal was also a proud sponsor of Arthur on PBS. The TV show Super WHY! currently mascots and endorses this cereal.
In the older commercials, it features Bugs Bunny, Elmer Fudd and Sylvester.
In 1995, Post Alpha-Bits cereals featured free Looney Tunes stickers featuring Daffy Duck whose promoting it.
Commercials