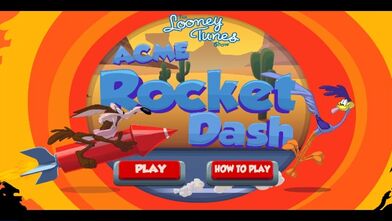 Acme Rocket Dash is an online Looney Tunes video game on Cartoon Network.com starring Wile E. Coyote and Road Runner.
Plot
Wile E. Coyote chases the Road Runner on a rocket.
Gameplay
The gameplay here is very similar to Wile E. Rocket Ride where players control Wile E.'s rocket, and keeping their speed up. The only difference is that players use the mouse to move Wile E. instead of arrow keys.
Ad blocker interference detected!
Wikia is a free-to-use site that makes money from advertising. We have a modified experience for viewers using ad blockers

Wikia is not accessible if you've made further modifications. Remove the custom ad blocker rule(s) and the page will load as expected.