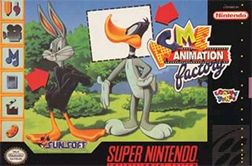 ACME Animation Factory is a Super Nintendo Entertainment System video game released by Sunsoft on November of 1994.
In ACME Animation Factory, the player is given a series of tools to create his or her own animated cartoons, using the most famous characters of Looney Tunes, including graphics, animation and music.[1] When the cartoon has been created, it can be saved and later replayed.[1] Other games like Solitaire and Mix 'n' Match (a variation of the childhood card game Concentration) are available for those who don't have artistic talents.[1]
See also
References
Ad blocker interference detected!
Wikia is a free-to-use site that makes money from advertising. We have a modified experience for viewers using ad blockers

Wikia is not accessible if you've made further modifications. Remove the custom ad blocker rule(s) and the page will load as expected.