1955 is another year when Looney Tunes and Merrie Melodies shorts were released.
Notable events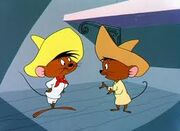 Speedy Gonzales makes his second appearance. This time, his design has been completely overhauled.
All of the black-and-white Looney Tunes shorts, all of the black-and-white Merrie Melodies not produced by Hugh Harman and Rudolf Ising, and "Lady, Play Your Mandolin!" are purchased by Sunset Productions.
1955 became the year where the opening themes of both Looney Tunes and Merrie Melodies were arranged by Milt Franklyn. However, some cartoons still continued to use the older themes even after the first short with a new theme was created. The Color Rings changed from red rings with blue background to green rings with red background, however, some cartoons from the 1955-1956 season continued to use the red rings and blue background at the end only.
Releases
Ad blocker interference detected!
Wikia is a free-to-use site that makes money from advertising. We have a modified experience for viewers using ad blockers

Wikia is not accessible if you've made further modifications. Remove the custom ad blocker rule(s) and the page will load as expected.