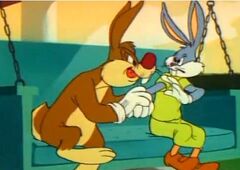 1948 is yet another year in the golden age of Looney Tunes and Merrie Melodies.
Notes
The color shorts produced prior to August 1st of this year (of which "Haredevil Hare" is the most recent) were sold to Associated Artists Productions in the 1950s, which in turn passed over to United Artists and later to MGM before passing to Turner and back to Time Warner upon their purchase of Turner's library in 1996.
Shorts
Ad blocker interference detected!
Wikia is a free-to-use site that makes money from advertising. We have a modified experience for viewers using ad blockers

Wikia is not accessible if you've made further modifications. Remove the custom ad blocker rule(s) and the page will load as expected.